… or is it just us that welcomes all these craps and thinks that there's money in garbage?
About two weeks ago I was searching for grass cutter for sale online, I was hoping I can get a good deal for second hand item since I'm considering budget. Luckily, I was able to find one and so we ask for direction and visited the shop, their store wasn't hard to find since as the store owner said, their store façade is full of crap, lol.
When we got there, indeed there were stockful of grass cutters per advertised online; Yeah, I didn't dare to raise eyebrows since there wasn't any description whatsoever over the internet and the store's marketing strat is to buy the item 'as-is-where-is'.
All of these units weren't working, when you buy one, you have to contract another party to recondition this and 'suma-total' it's like you buying a new one – it totally forfeits the idea of getting good deals out of this rubbish – er, they call it 'surplus'.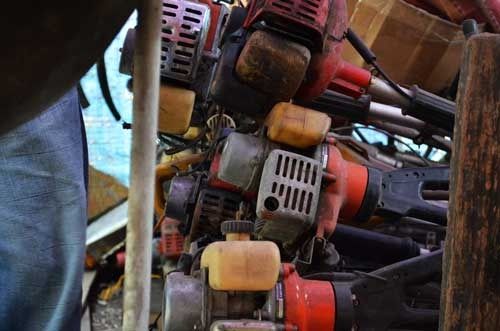 I was talking to the owner and he kept blabbing about his import business, yeah these imported junks from Japan, he said they're buying not in pieces but by yard, meaning you buy a hectare junk – whatever bolts and nuts that's within that yard you have to pack it clean and ship it right at our yard – yeah – their yard – clean, ours – rubbish. I understand this 'surplus trend' in the Philippines started with this 'ukay-ukay' thingy – those used clothes that were supposed to be given as relief items to calamity victims, but some brilliant homos thought of 'might as well make money out of this stuff' though for the longest time they been declared illegal – illegal, my foot!
I wonder how many acres of land we've cleaned in Japan and bring those craps here, that includes my neighbor's bike, tv, plates, beds, foams, etc.. etc.. and what are we going to do with these rusty grass cutters – 'hoy! Kalakal din to'. Sighh!
Anyway, I'm going back to plan A that is to score a new one, still reading reviews on what best brand to buy.
Tagged: imported trash, surplus grass cutter