I thought I'm through buying Barbies, it's because my daughter had long dropped the idea of collecting Barbies in jeans, but recently she has been whining and talking about Lalaloopsy, I thought they're lollipops and when she began to cry she wanted one, I said 'go buy two packs', to her delight she said 'so when are we going to the mall?' Can you just ask your brother to buy one or two packs at the convenience store? In unison they said … what?
Mom, Lalaloopsy is a doll. So to cut the mom's curiosity, I went with them to check how this doll looks like. I don't know how to react when I first saw it, I find it the total opposite of Barbie, though they have the same thin legs. I think I paid more for the head, it has this over sized head and button sort of eye and a sewn mouth.
Lalaloopsy is an American line of rag dolls, tag lined - Sew magical, sew cute. I thought they're really made of cloth, and indeed, when I read this doll's history it really was, but it 'magically came to life when her last stitch was sewn.'
I wonder what went through in between but now it was  immortalized and came to the Philippine shores in a sturdy box all displayed colorfully and conspicuously at a mall's toy section. Frankly, it's quiet expensive for a rubber doll with an extra big head and a pot of plastic cactus.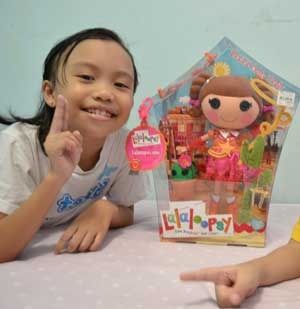 Just like Barbie, there are also accessories available, like shoes, the doll house.. etc… those thin legs and arms are bendable, I was even trying to pull it out, but I got caught.. oh, no!
There are about 40 Lalaloopsy dolls, and if I'll collect them all MGA Entertainment, the American company that manufactures these dolls, will be richer by P67,990.00 if one doll costs P1,699.75. I've no plans, not until I'll hit jackpot tonight. Buying this doll is a promise  I have fulfill in exchange for doing good at school.
Below is the doll-tag. Again, this set is called Prairie Dusty Trails, why? Because this girl is 'a rowdy, buckaroo who's always ready to gitty up 'n go! She love square dancing, doing rope tricks and riding off into the sunset'.
This was sewn on Aug. 13 [year not specified] but I guess it's just this 2011 or 2012 given that Lalaloopsys were just released in 2010.
This was sewn from a cowgirls vest, whoever that cowgirl, I'm sure she've endured tattered vest. And her personality? A rowdy buckaroo
Finally, I can only say it's made of quality material, as it's should supposed be I paid more than a thousand bucks (in pesos) for this, and just like any other toys children would love to have, it sure gave a sparkle in daughter's eye … and above all pretty much easy to deal with letting her do child-appropriate household chores.
Tagged: Dolls